Campaigns
Stick to the facts!
Stop Fake News
High quality journalism faces a major challenge in these times where fake news and disinformation are all around us. That´s why, on 20 July, we launched the campaign #StickToTheFacts, where we highlight the importance of sticking to the facts and searching for reliable information. Journalists are our guideline in this. They make sure news is truthful, honest and independent.
We believe that everyone should have access to independent, reliable information. As Free Press Unlimited, we stimulate qualitative investigative journalism worldwide in order to increase access to reliable information and to counteract fake news and misinformation.
Our #StickToTheFacts campaign serves exactly that purpose: to fight fake news by promoting independent, qualitative journalism, and thereby the facts. In the coming weeks, we will share tips, stories and experiences on our social media through our stick to the facts post its. Join us!
Do you support the facts with us? Request our #StickToTheFacts post-it note pack and spread the importance of factual news! Send an email with your address to sticktothefacts@freepressunlimited.org.
 
Free Press Unlimited Post-it Wall
The Free Press Unlimited team has sure seen its share of fake news and disinformation. Therefore they like to share their experience and tips with you during the campaign. Below you find their #StickToTheFact messages!
 
Lidewij van Vliet - Fundraising Officer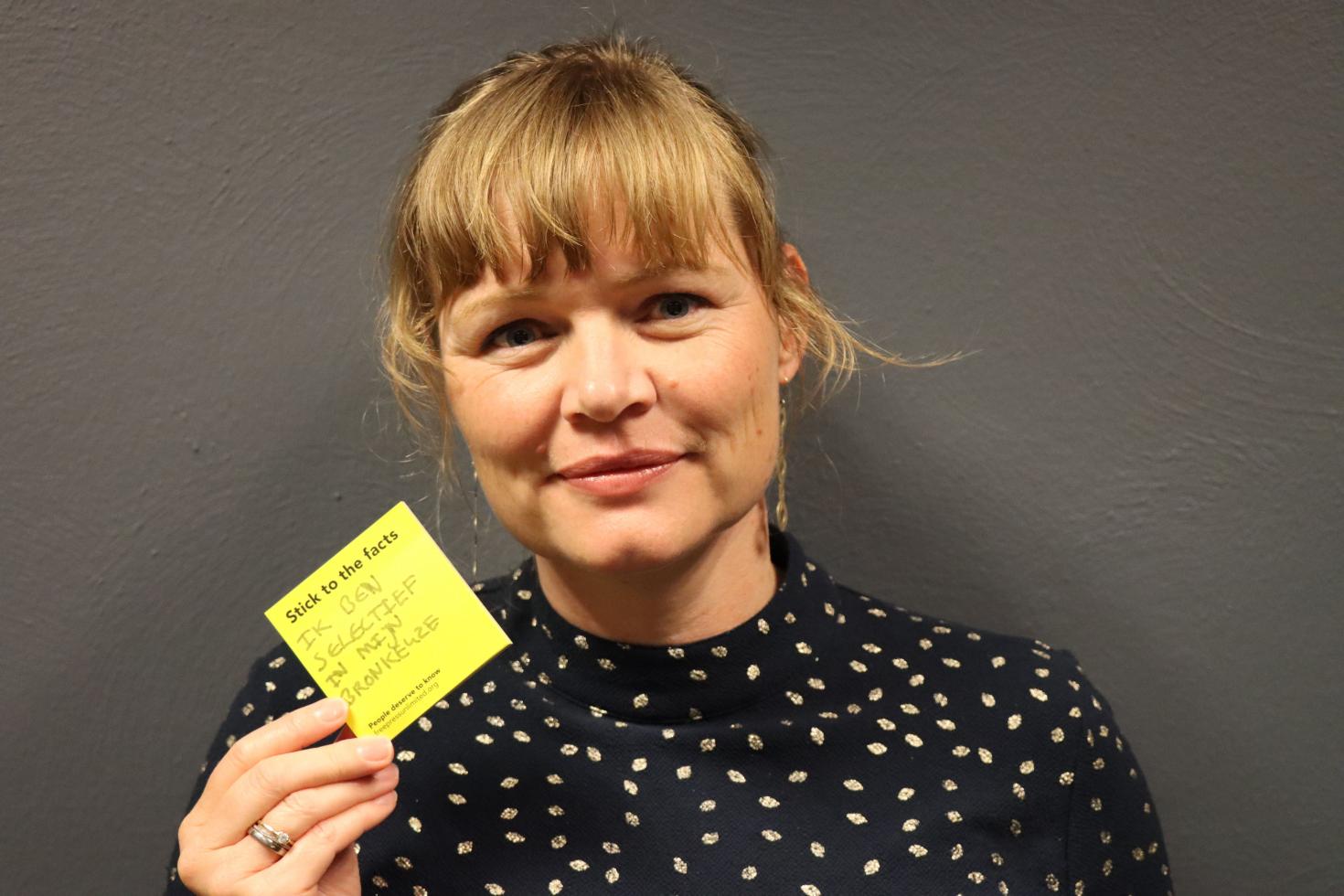 The post it reads in Dutch: I am selective in my choice of sources.
"When the pandemic broke out, I was living in the U.S. and felt overwhelmed by the constant flow of information coming from all kinds of sources. Ultimately, I decided to stick to one source I knew I could trust, and got all my information from there."

Jos Bartman - Research Coordinator for A Safer World For The Truth
The post it reads: Diversify your sources.
"It is not always plain to see whether something is fake news. Sometimes it can be partially true, but news can also be misinterpreted, manipulated or misleading, because certain things are left out or used in various strategic ways. To be able to recognise this, it is useful to diversify your sources."

Evelien Wijkstra - Senior Policy & Advocacy Officer
The post it reads: We need more professional journalism.
Factual news sometimes threatens to drown in the amount of fake news that circulates. How do we arm ourselves against this? For our #StickToTheFacts campaign, Free Press Unlimited's Evelien Wijkstra shares her view on how to tackle disinformation. "We have to keep emphasizing: there is quality information, we have facts and a shared reality."
Fabio Ferreira Dias dos Santos - Senior Project Officer Syria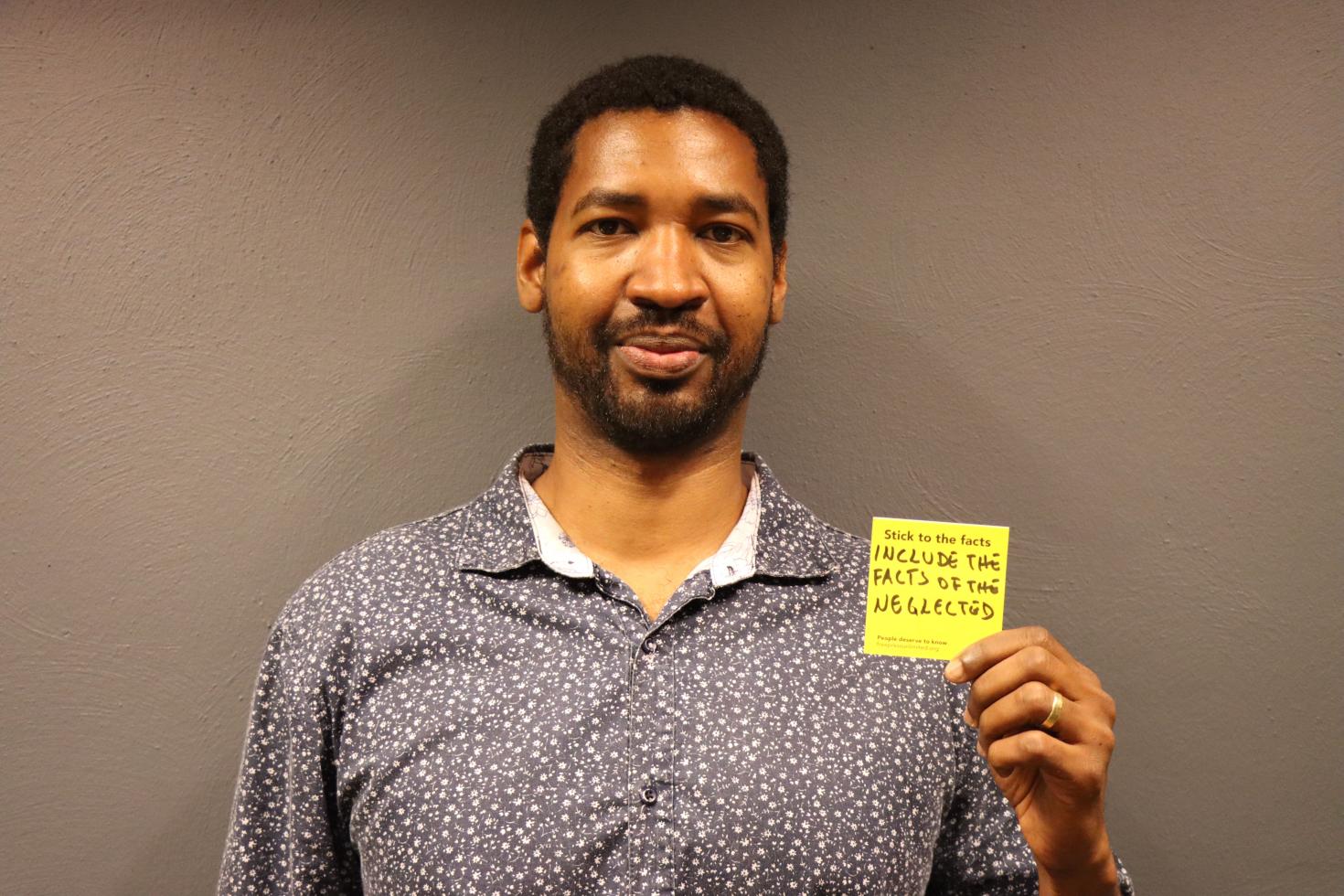 The post it reads: Include the facts of the neglected.
"Often the 'small' daily happenings that might affect regular peoples' lives, are neglected by 'bigger' actors when it comes to the political arena, the media and social issues. Therefore, listening and considering the opinions that the 'average Joe' might have, provides rich insights into some of the root problems that affect us all."

Jasmijn de Zeeuw - Legal adviser A Safer World for the Truth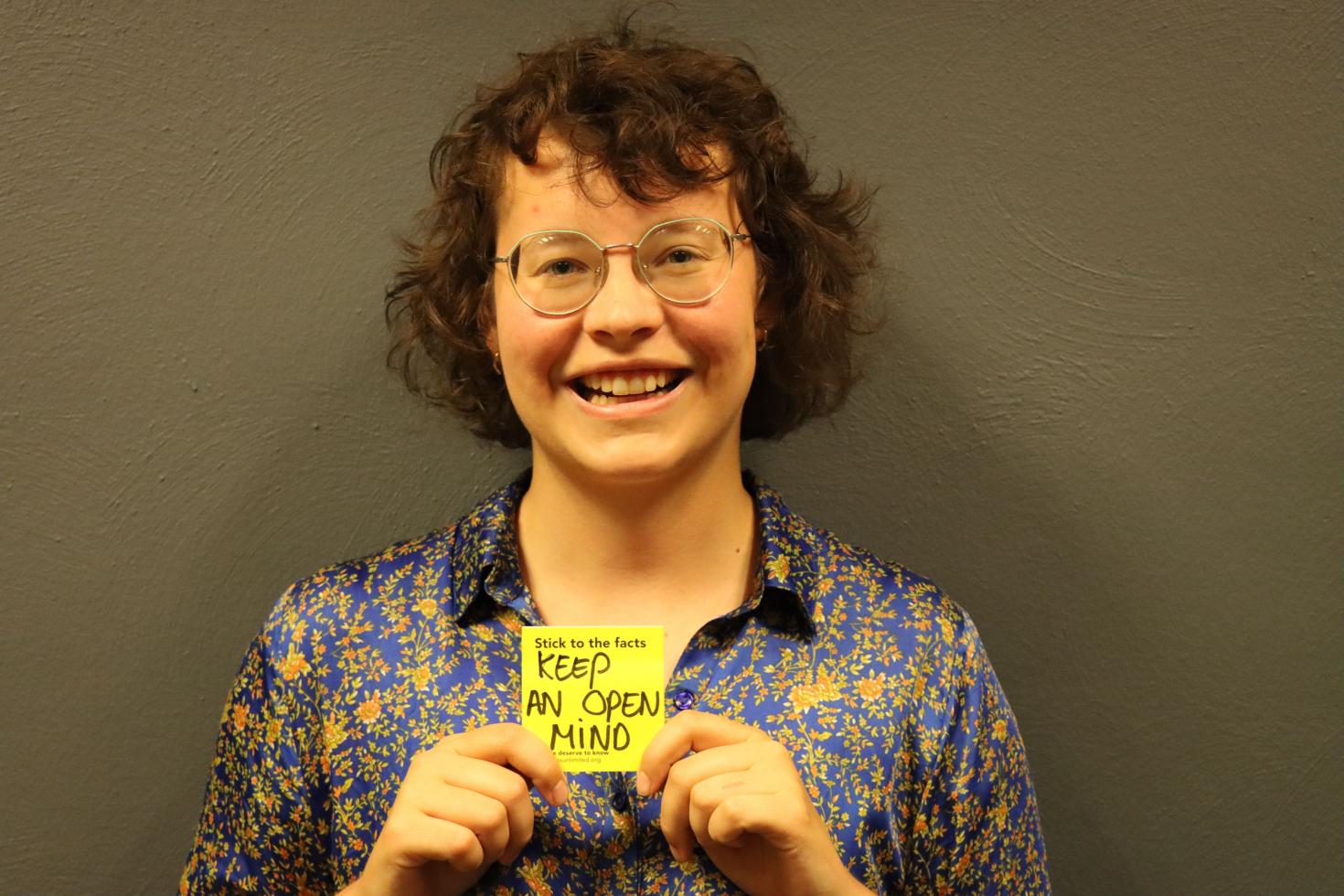 The post it reads: Keep an open mind.
"When you receive information, it is important to know where the information is coming from and who wrote it. Because there are facts, and there is an interpretation of the facts. The first are a given, and the second can vary. For instance, I read the Guardian, but if I would think that everyone has the same perspective as the Guardian then I would have a blind spot, and be inclined to label anything else as fake news. So keep an open mind and debate with each other- share your thoughts on different interpretations, not facts."
 
Myrthe Nauta - Communications Officer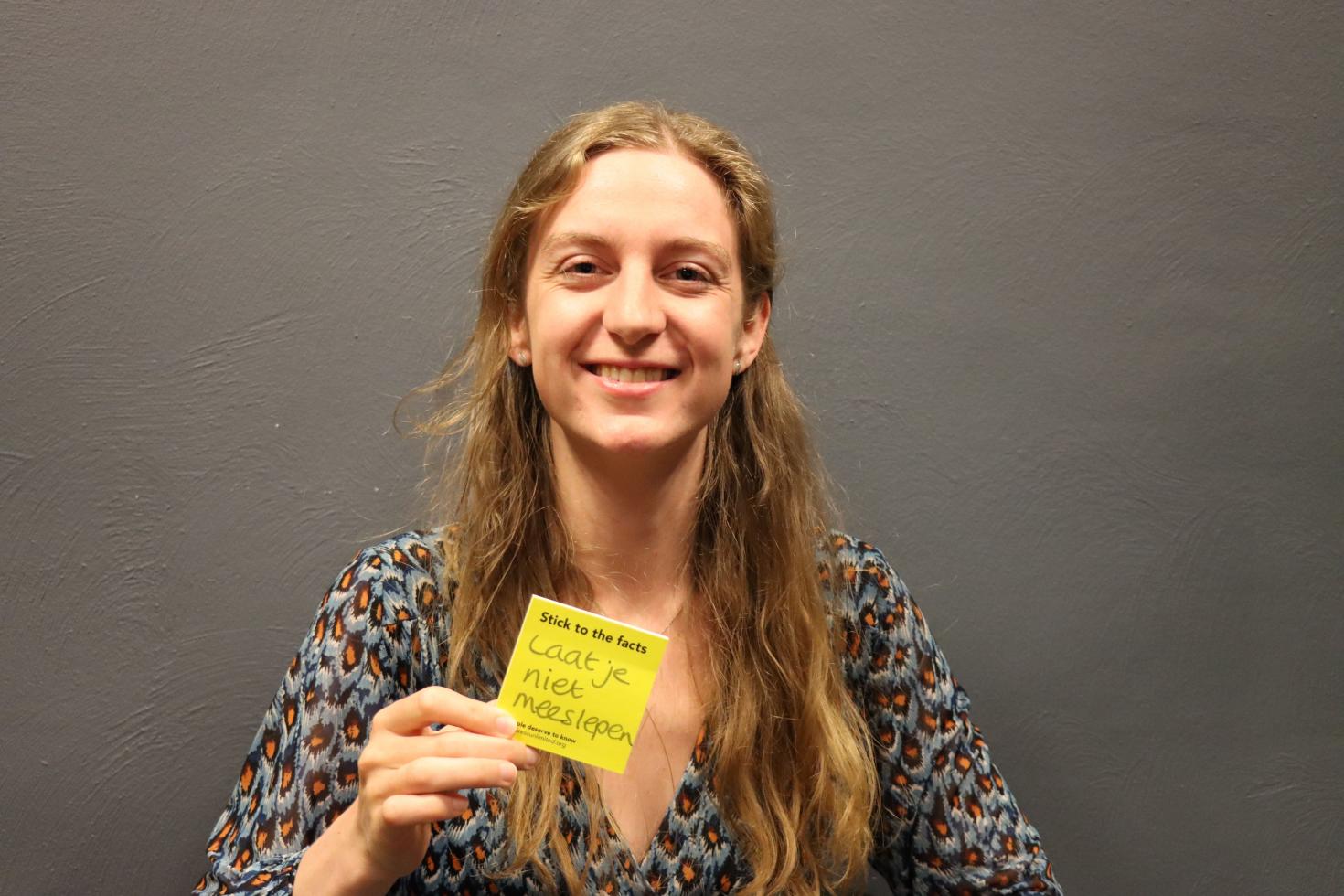 The post it reads: Don't get carried away
"When news emerged that crime journalist Peter R de Vries had been shot, I saw a fair amount of rumours and speculations were spreading on social media and in whatsapp groups. Many of which later turned out to be fake news. In the spur of the moment, when you're hyped up and shocked, it becomes very easy for unchecked information to be shared, but don't get carried away. Seek out reliable news sources."
 
Gaëlle Weigel - Project Officer Africa & Central America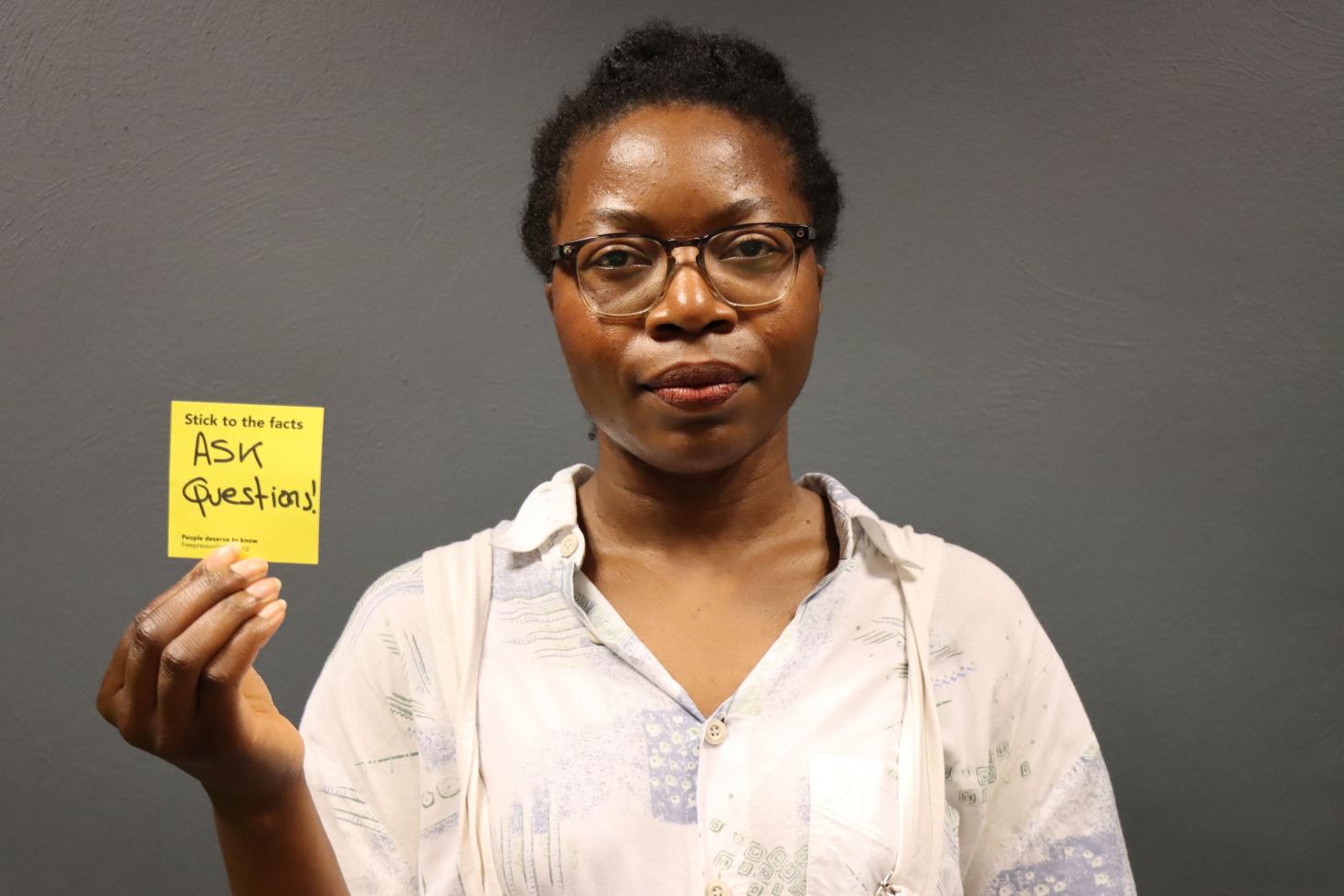 The post it reads: Ask questions.
I learnt a saying in high school: "Penser c'est dire non. Remarquer que le signe du oui est d'un homme qui s'endort; au contraire le reveil secoue la tête et dit non."

The message is: To think is to say no. Don't always take information as is; ask questions.
 
Experiences from the field
Koen Leurs and Berit Zandbelt - Researchers Utrecht University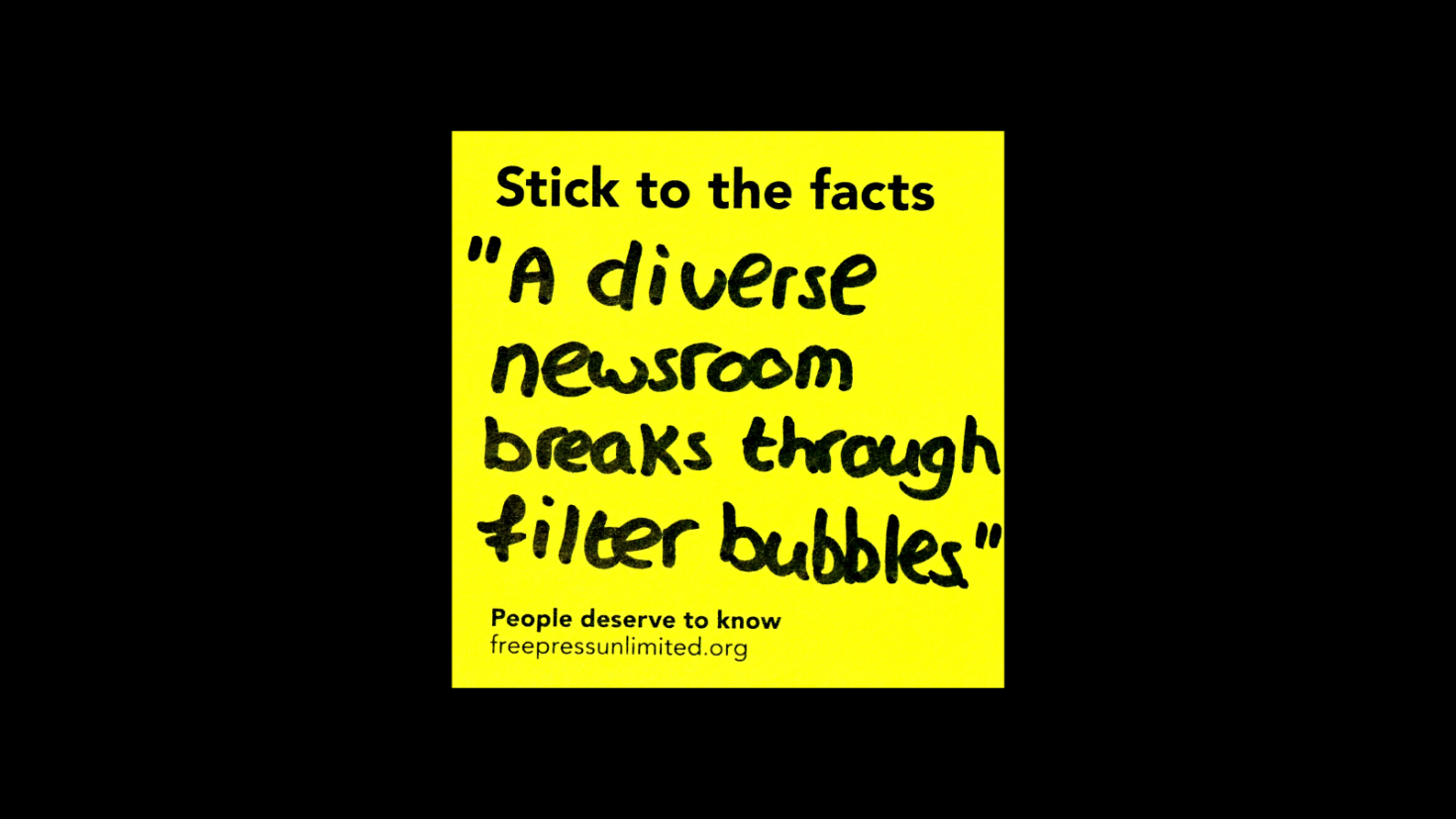 For #StickToTheFacts researchers Koen Leurs and Berit Zandbelt from Utrecht University share their views on how journalism can use their place in society to combat the spread of fake news, in particular in marginalised groups. "Investing in the media literacy of young people, but also of members of government and especially youth workers, is essential."
Loes Witschge, fact-checking journalist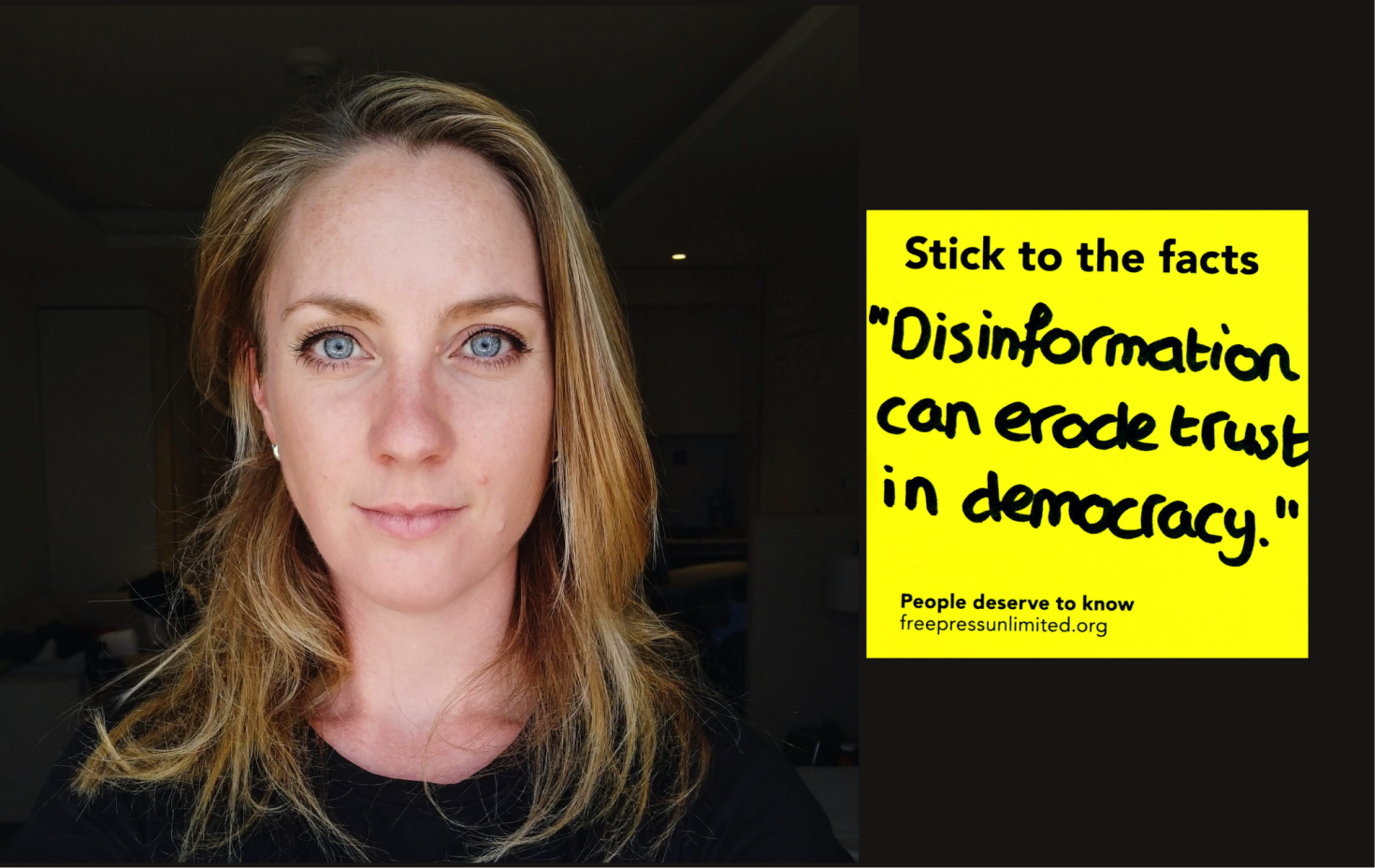 In our #StickToTheFacts campaign, we highlight people's experiences in their quest for reliable information, like Loes Witschge, former fact-checking journalist at Agence France-Presse. "I sometimes use digital verification techniques like geolocation with Google Maps and Street View and I often consult experts and authorities like police."
Tidiani Togola, CEO and founder of Tuwindi in Mali
In this article, Tidiani Togola, CEO of partner organisation Tuwindi, shares how they deal with the fast circulation of fake news in Mali. "Due to low literacy, little trust in the government and a young population sensitive to sensational news, Mali is a fertile breeding ground for fake news."
Keep an eye on this page for updates, or follow us on social media!