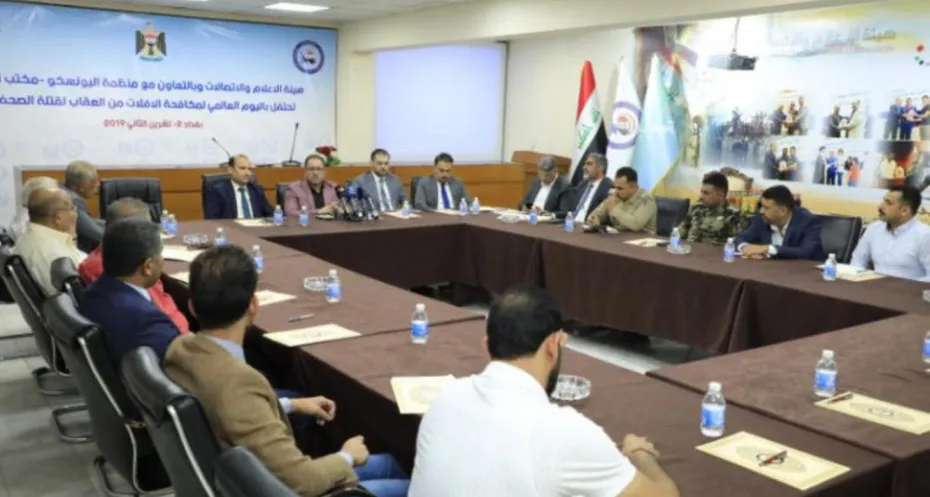 Fostering collaboration to combat impunity in Iraq
Iraq is one of the most unsafe countries for journalists to work in. Journalists face violence, kidnapping and murder, and most offenders are never held accountable. Free Press Unlimited collaborates with UNESCO Iraq to increase the safety of Iraqi journalists and combat impunity, for example by lobbying to make sure safety and impunity will continue to be on the agenda of policymakers.
It is extremely difficult for Iraqi journalists to do their work free from violence. Since 1993, at least 193 journalists were killed in Iraq, according to UNESCO. Free Press Unlimited collaborates with the UNESCO office in Iraq since 2016. The first point of action was to urge the Iraqi government to start reporting to the Director General of UNESCO on the number of killed journalists and which actions have been taken to resolve these crimes. Doing this gives an important signal to perpetrators: crimes against journalists don't go unnoticed. Although reporting this is an obligation for Iraq as a member of the United Nations, the government never complied. After a successful lobby they gave their first report in 2017.
Power of solidarity
Since then, Free Press Unlimited and UNESCO have supported the formation of a National Committee of Safety and Impunity, consisting of local civil society organisations, government representatives and the journalist union. This committee meets regularly to discuss safety issues. Another body, the Special Investigations Unit (SIU) was set up specifically to investigate attacks on journalists. Free Press Unlimited and UNESCO strengthened this unit with specific technical expertise, supported by the Netherlands Embassy in Iraq.
Free Press Unlimited provides training, advice and access to international expertise to members of the committee and SIU. For example, by hosting a meeting between members of the Iraqi National Committee for Safety of Journalists and the SIU to the Dutch PersVeilig initiative, in November 2019, where the two delegations discussed a standardised protocol for dealing with threats to journalists.
With every new incident the Committee and Unit are proving their purpose as a national safety mechanism to urge authorities, embassies and other influential persons to act on protection for journalists. Free Press Unlimited backs this up by releasing joint statements, in 2017 and 2020, calling on the Iraqi government to investigate and seek justice for attacks on journalists.  
Current situation
Since 2016 the number of journalist killings in Iraq was on decline, with nine journalists killed between 2017 and 2019. But in the first four months of 2020 alone, six media professionals were killed in the country. This shows how important it is to keep safety for journalists and impunity on the agenda, to ensure there is ongoing political attention, and impunity won't have a chance. 

Photo: UNESCO.