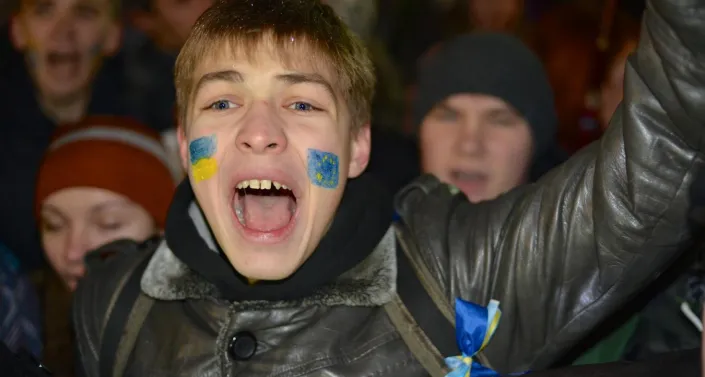 Over the past decade, Ukraine has become a regional leader in journalism and press freedom. The country enacted an ambitious press freedom reform including a law on transparency of media ownership and the creation of an independent public broadcaster. Now, after Russia's invasion, the future of the country and of the independent media is precarious and uncertain.
An indication of what may lie ahead for independent media is how local reporters were handled before the raid in the occupied territories of Luhansk and Donetsk. They often faced arbitrary arrests, beatings and torture; many were forced to work undercover.

For up-to-date information about the situation in Ukraine and our work there, go to our dossier.
 
The Ukrainian media landscape 
Ukraine is a country with bilingual media (Ukrainian and Russian) that often overlap. In recent years, the government has introduced stricter language quotas for local media, which had a positive impact on representation. Unlike many neighbouring countries, the role of the state in the Ukrainian media landscape is limited. Media conglomerates are the most common form of media ownership in Ukraine. Trust in news media is therefore low. In 2020, only 48% of Ukrainians would trust digital news channels, 41% TV and 21% radio. High social polarisation has negatively affected these scores in recent years.
Despite ambitious legislation, editorial independence of leading news outlets is evaded by their influential private owners and it is not always possible to trace the funding. In 2021, Ukrainian law enforcement revealed that three leading news channels are being funded by entities linked to terrorist activities in the Russian-occupied areas of eastern Ukraine.
 
Safety for journalists
Since 1991, a total of 13 journalists have been murdered. In five of these cases, the perpetrators went unpunished. In the first three months of 2021 alone, the Council of Europe issued 58 media freedom warnings. The Covid-19 pandemic exacerbated existing challenges. Aside from violence, journalists are mainly hindered in their work because they are banned from accessing public government meetings and sessions, the pandemic situation being used as an excuse.
Of course the emerged war in Ukraine due to the Russian invasion brings new immediate danger to journalists in the country. 
 
Our work in Ukraine
In Ukraine, Free Press Unlimited works with three independent media outlets. Each and every one of them are independent media groups in Ukraine that are active nationally, but also regionally and specifically in the conflict zone in Eastern Ukraine, and are engaged in independent reporting and investigative journalism. They are currently providing much-needed balanced coverage of the war.
Now that pretty much all information that comes from within Russia is at the least unreliable, and more often plain state propaganda, it is very important that independent information in the Russian language remains available. For the Russian citizens, but also for the Russian speakers in nearby countries. That is why surrounding media partners in neighboring countries are committed to continuing the flow of reliable information by (also) reporting in Russian. An effort that we support.
Besides this, one partner is part of the VIMES project, that facilitates skills and knowledge exchange between five Eastern European and three Central American countries, with the aim of strengthening their position in society.
Following the Russian invasion, we have scaled up our support and assistance to journalists at risk. We are in close contact with our partners to help them where we can. During the increasingly escalating situation, we were able to help them so far with safety training, emergency kits, alternative housing and also evacuation. We will keep supporting our partners in this difficult time.

 
Photo: Ivan Bandura.