Press freedom translated into art by Royal Academy of Art students
News
We embrace different ways to pay attention to press freedom. Free Press Unlimited was delighted to collaborate with master students from the Royal Academy of Art in The Hague. These students have all made art pieces inspired by the need for press freedom all around the world. The results are impressive.
Creative process
The project kicked off in September 2020, with a presentation by Boris van Westering, Sr. Program Coordinator Middle East North Africa & Pakistan at Free Press Unlimited, about the work of Free Press Unlimited. The students were presented with seven different cases from our partners worldwide, to inform and inspire them. Boris: "We tried to convey the challenges that our partners in different parts of the world face when trying to do their job: providing people with reliable information."
Each of the students embraced one of these cases, from Pakistan, to Tunisia, to Venezuela, and chose various ways to transform these into art. The creative process spread out over seven months, in which the students researched the different cases, speaking to the related journalists and experts themselves.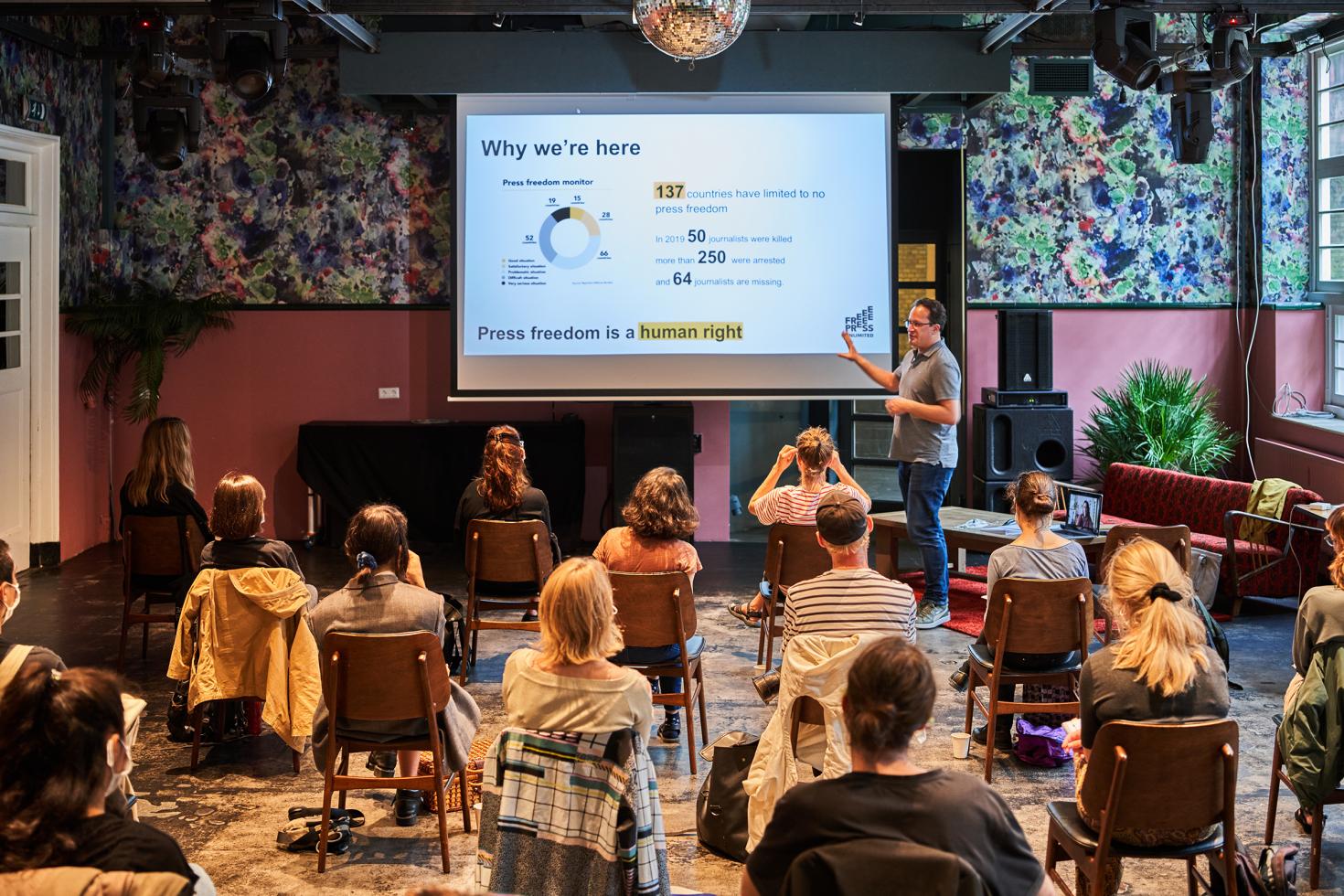 Boris van Westering was involved in the entire project. He explains the importance of this project as follows: "Globally we see a sharp decline in press freedom and increased censorship. Because of this trend, the media sector has to seek to innovate. It is important to find alternative ways to distribute meaningful independent media content, that steers local debate or realise change."
He continues: "For this exact reason, Free Press Unlimited seeks new collaborations together with our local partners, with for example the creative sector. This first time collaboration between the students of the Royal Academy of Art and Free Press Unlimited and partners, is a kick-off of exploring new media narratives and it was for sure a very successful experience. We look forward to future innovations!" 
In April 2021, after an intense process, the students were ready to present their pieces of art. 
 
Watch a full recap of the presentation day at the Royal Academy of Art
 
Want to see more from the individual art pieces? Look here!
Credits
"Facts Not Filters" is a 2021 educational project highlighting the international struggles of independent journalists developed by Lauren Alexander and Niels Schrader from the Non Linear Narrative Master's programme at the Royal Academy of Art, The Hague in collaboration with Boris van Westering and Marieke le Poole from Free Press Unlimited. "Facts Not Filters" project was supported by tutors Mijke van der Drift (theory), Lizzie Malcolm, Dan Powers (coding), Judy Wetters and Louise Rietvink (workshops).
Thanks to: Mariem Saeed (DRF), Sabin Agha, Umaima Ahmed, Margarita Akhvlediani (JamNews), Mira Chowdhury (Free Press Unlimited), Paul Vughts (Parool), Hazar Abidi (Al Khatt), Hicham Mansouri, Shiar Youssef (ARTA FM), Sherin Ibrahim (ARTA FM).


Photo in header: Roel Backaert