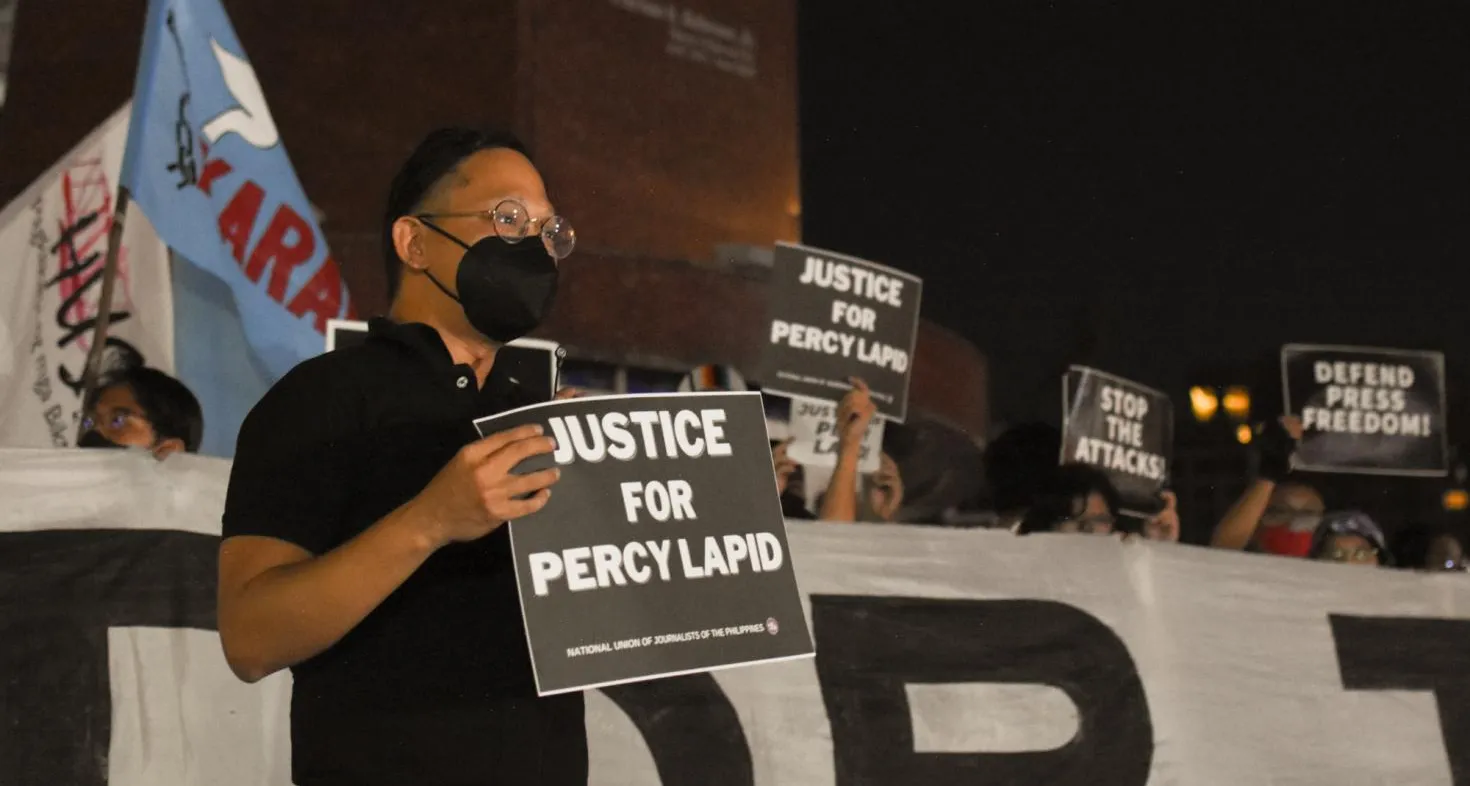 Safety of journalists in the Philippines: new administration, same challenges
Since the Duterte administration (June 2016-2022) and under the new Marcos Jr administration (June 2022), the Philippine media community has been facing many challenges, making it difficult for Filipino journalists to do their work. Free Press Unlimited interviewed Len Olea, Secretary General of the National Union of Journalists of the Philippines (NUJP) and editor at Bulatlat, the country's longest running online media outlet, to find out how she views the current safety situation for journalists in the Philippines.
Through this interview, we learn that there is a continuing strong sense of solidarity and support among Filipino journalists. By and large, this is thanks to dedicated efforts led by the NUJP to advance the safety of journalists nationwide. The NUJP has been advocating for press freedom and freedom of expression since 1986.
 
You are the Secretary General of the National Union of the Journalists of the Philippines (NUJP) and a journalist. Is your work unsafe?
"Yes. I was red-tagged* recently on national TV by a former government official. I was labeled as being a member of the Communist Party. The Supreme Court of the Philippines issued a subpoena against this government official, but she continues to red-tag people.
Being red-tagged is like having a target on your face. In terms of security, it means that I always have to take precautions. Like many other media publishers, the media outlet I work for was suddenly blocked for more than two months, causing anxiety among our staff, even among families. Our colleagues in the provinces, for example, who have been red tagged, also regularly experience high levels of anxiety. Some of them have had to relocate to other places to ensure their safety. It is not a joke, and we are definitely not taking it lightly.
"It is important that the media community recognizes the need to push back in whatever way we can."
Our work is dangerous because of our press-freedom advocacy. But if we stop doing what we do, they win and we lose. We do not want them to win in terms of their aim to intimidate and silence independent media.
We are able to continue doing our work because of the solidarity among our peers. We are also really happy that despite all attempts [at intimidating us], an increasing number of young journalists are joining the NUJP. I think that this is an indication that these upcoming journalists are seeing the importance of fighting for press freedom, because if they do not stand up for press freedom, who else will? It is important that the media community also recognizes the need to push back in whatever way we can."

*Red-tagging is a form of online harassment, aimed at targeting people by blacklisting them (both online and offline), often leading to harassment and unlawful arrests.
 
What would you say are some of the main difficulties that Filipino journalists are facing right now?
"First and foremost, we have seen the killings of journalists continue under the new administration. Two journalists have already been killed since Marcos Jr assumed presidency on 30 June 2022. We are still pushing for accountability. Since 1986, 197 journalists have been murdered in the Philippines, and only very few cases have resulted in convictions. The 2009 Maguindanao massacre case in which 32 journalists were killed, took a decade of trials before there was a conviction of some of the masterminds. But more than 80 of the suspects in that case remain at large. You can sense the level of impunity that we have here in the Philippines.
Aside from the killings, journalists continue to experience other forms of harassment, such as online threats and even death threats. Many of our colleagues are being charged with libel and cyber-libel, and in this country, those facing defamation laws are considered criminal. When you're convicted of libel, you serve a prison term. Meanwhile the use of laws to muzzle independent media continues, especially in the provinces. Many of our colleagues outside the cities are threatened or charged with these cases. There was one incident where a politician charged two local broadcasters with 941 counts of cyber libel. This really is a form of harassment. We are trying to address this by linking up with human rights lawyers. We also want to continue and strengthen our campaign for the legal defense of journalists. So even under this new administration, the killings, cyber-libel and libel charges continue and the 'red-tagging' too."
 
With the new Marcos Jr administration, do you think there is a chance that more will be done to protect press freedom?
"Well, our problem with the current administration is the lack of transparency. It's very difficult to get statements from them. Even the reporters inside the Malacanang press corps (government-accredited journalists) do not have the access that previous administrations would usually provide.
"The troll army is well-funded and even government agencies resort to disinformation by spreading lies and demonizing legitimate sources of information."
We want to believe that change is possible. We challenged the current administration to stop the killings, to decriminalize libel suits and at the very least amend the Anti-Terrorism Act, which contains provisions that stifle press freedom and freedom of expression. The provisions of the Anti-Terrorism Act, such as, for example, inciting terrorism, are so vague that even journalists reporting about conflict can be considered as inciting terrorism. These provisions are dangerous, especially in the context that state security forces are red-tagging media organisations and individuals. So those are, I think, some concrete steps that the Philippine government can take if it is sincere enough to address the safety of Filipino journalists.
Lastly, disinformation is a big challenge. The troll army is well-funded and even government agencies resort to disinformation by spreading lies and demonizing legitimate sources of information. So we also really need the help of different communities in combating disinformation and in preserving the integrity and credibility of the profession."
 
What can international press freedom organisations do to support the NUJP?
"Support from the international community is highly significant in our assertion for press freedom. The pressure exerted by our colleagues in the international community really matters because the government is compelled to respond. Take the annual Impunity Index by the American press freedom organisation Committee to Protect Journalists. It is effective because it forces the government to reassure the public that they are aware of the issue and are doing something about it.
Recently, the Universal Periodic Review was held in Geneva and several state parties recommended the important action points for the Philippine government, including a stop to red-tagging, a review of the Anti-Terrorism Act and an end to impunity by addressing the killings of journalists and human rights defenders. We're really hopeful that this kind of support continues, especially under the new administration."
 
Have alternative justice-led initiatives been effective so far?
"For now, the Philippine government has not yet allowed any visit of UN Special rapporteur for the past few years. The last one was Philip Alston. But we heard that the UN Special Rapporteur for freedom of expression, Irene Khan, will visit the Philippines next year. This is a positive development. We hope that she can conduct an independent investigation on the situation for Filipino journalists. These kinds of independent and international investigations are crucial and would really help in our campaign for justice for our slain colleagues. It really helps that there is an independent mission which can validate or disprove claims of the Philippine government in relation to press freedom and the defense of human rights in general.
"We are bracing for a long fight for justice."
We are also very grateful for the independent investigation into the murder of Filipino journalist Gerry Ortega that was conducted by A Safer World For The Truth, and led by Free Press Unlimited. Unfortunately, the Justice Department has not yet replied to our requests to investigate the case, but I think we should keep on pushing them to act on this. For the case of Ortega, it's been more than ten years and the mastermind is still free. With the Lapid case, well, they already identified the alleged mastermind, but there have not been any arrests. We are bracing for a long fight for justice."
 
Are there steps that can be taken right now to create a safer environment for NUJP-members?
"No matter how much training we conduct, if the hostile environment remains the same, we cannot guarantee the safety of anyone. It is therefore very important to continue our collective action and push for the protection of journalists. Recently, after the killing of Percival Mabasa, there had been police visits to the homes of journalists. The national police force said that they just wanted to protect us. We issued statements explaining why it had the opposite effect. It caused a lot of worry among our colleagues especially after some of them received death threats. Later on, the police issued an apology. If the police force really wants to protect us, they should stop the red-tagging against us, and solve the cases, the pending cases. Many of cases of murdered journalists are not yet resolved until now. They should start with that, instead of visiting the homes of media workers."
Free Press Unlimited is campaigning for the safety of journalists worldwide.