In response to the Russian invasion in Ukraine, Free Press Unlimited organised a crisis meeting on 4 March 2022 in Amsterdam to bring together journalists, media experts, involved organisations and others, to discuss how we can provide long term support for independent media outlets and journalists in Ukraine. This is where Media Lifeline Ukraine was introduced: a coalition to protect journalists and keep reliable information available in and around Ukraine.
From the very beginning, we as Free Press Unlimited, together with our sister organisation Free Press for Eastern Europe (FPEE) and our partners in the region, have been working day and night to bring journalists to safety and/or provide them with essentials to continue their important work. Media Lifeline Ukraine exists to support this work.
Together with our partners, we kick started Media Lifeline Ukraine on Giro 7676. Only with ongoing external support, will local media entities be able to continue to do their work. Media companies that we have been working with for over a decade now, indicate that there is a need for practical support and importantly, help for the longer term, to maintain the flow of reliable information.
This includes support through the provision of equipment: equipment to be able to continue reporting, but also digital security (VPNs) as well as the setting up of media hubs in neighboring countries with offshore newsrooms, where journalists are relatively safe and can come together to do their important work. 
 
Support Media Lifeline Ukraine!

What we have done so far
Since the start of Media Lifeline Ukraine, we have been able to get over 1000 Ukrainian, but also Russian journalists to a safe place, we have brought 150 high-quality ballistic vests and helmets across the border for the direct protection of journalists reporting at the front lines, and we are continuously working on the digital security of journalists in the region, for example by providing VPNs and protection against hacks. This way they can continue to share their information with the rest of the world.
In addition to the immediate danger to the thousands of journalists still working in Ukraine, the few independent media that still remain in Belarus and Russia are increasingly threatened by censorship, criminal prosecution and open intimidation. Free Press Unlimited continues to advocate for the provision of emergency visas to these independent journalists who are determined to continue their reliable coverage of Ukraine-related events.
 
Moving forward
Emergency aid is still much needed, but it is also very important to look ahead. Long-term support is needed to sustain independent journalism in the region in the future. For example, by placing media hubs in safe places in the region where journalists receive psycho-social support, can work together, and receive advice on legal, digital and physical safety. We are busy realising these complicated, but much-needed refuges, also in a collaboration with Reporters Without Borders (RSF). Two hubs that we initially set up in Poland for journalists from Belarus, are now also used by journalists from Ukraine.
We continue to work to protect journalists and their vital role in society and to ensure access to factual, timely and relevant information.
 
Partners
The partners and supporters of Media Lifeline Ukraine are:
Adessium, The Strange Brew Strategies, Stichting Huisman Vredes Fonds, Metropolis M, Limelight Foundation, de NTR, De Speld, Agora Europa, Human Rights Foundation, facet&, The Social Handshake, NextDraft, PR Dashboard, Cirrus Foundation, European Journalism Centre, Raam op Rusland, Kinder, the Dutch Association of Journalists, VPRO, Financieel Dagblad, Rotary Club Nieuwspoort, Museum of WW2 Resistance, Beeld en Geluid Den Haag, Stibo DX, the European Press Prize, Company.info, DM Bureau Kuiper en ten Klei, ANP, the King Baudouin Foundation and Kyos.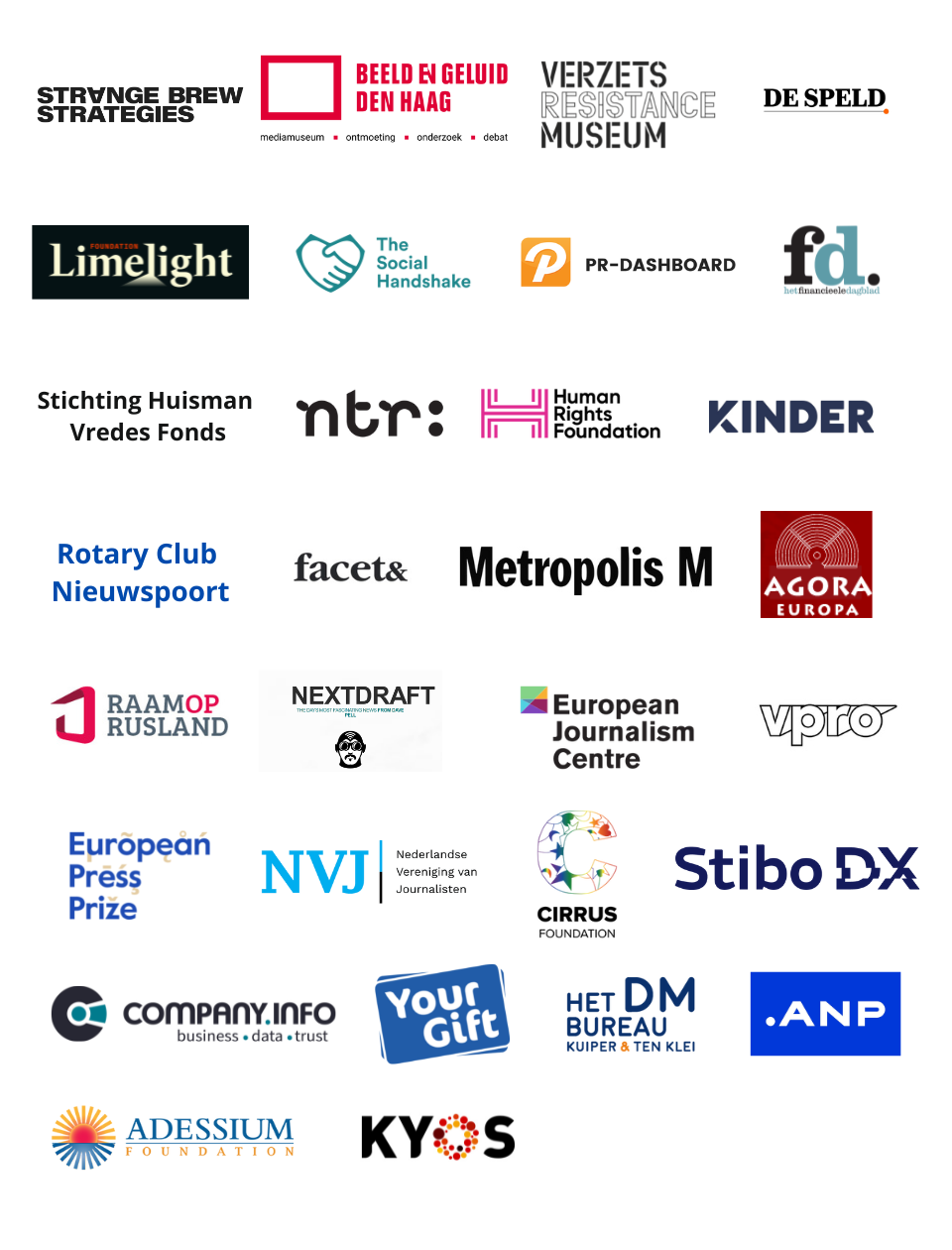 Photo in header: UKRINFORM/Ukrinform/NurPhoto via Getty Images