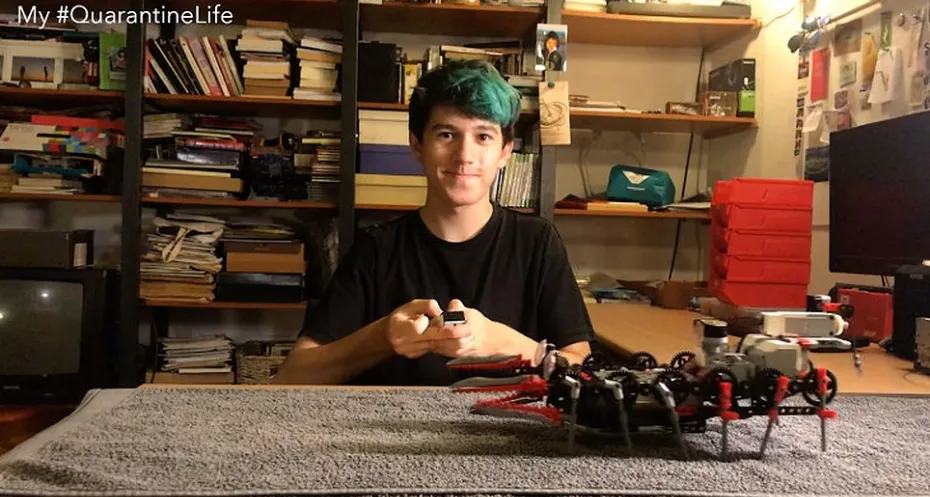 Sharing the stories of the youth in My #QuarantineLife
Covid-19 is forcing millions of young people worldwide to stay at home. Yet their voice is hardly heard in the news bulletins. What are their experiences? And what could the world learn from them? Free Press Unlimited and international partners created a platform for young people to help them share their stories with the world.
Stay at home, travel with your stories
We encourage young people to stay at home, and travel with their stories. Connect with others like you all over the world and find each other in your shared experience.
There are now videos from all over the world on the channel. Youth from Argentina, Mexico, United States, Iran, Cuba, Colombia, Italy, Germany and Ukraine, among others, share their story. For example, Santiago (13) from Veracruz, Mexico called his family together to play and sing a song from the local music genre 'Sones Jarochos' in front of the camera, and Roshana (9) from Iran made an animation in which she outsmarts the coronavirus.
The videos on the My #QuarantineLife YouTube channel have already reached almost 10,000 views, and have reached an estimated 45,000 people around the world.
 
To all the young people
My #QuarantineLife is a YouTube channel dedicated to YOU. We are inviting everyone from under 18 to join 'My #QuarantineLife', that produces, collects and shares stories, from young people and about young people, about your life in quarantine. When you share, you connect. You can be isolated, but not alone.
Grab your camera, tablet, laptop, phone or any other device with a camera, and join the movement! You can find a tutorial for making the video in English, in Spanish and in Dutch.
We will share all these stories on YouTube. We are also asking partners worldwide to join us to support you in quarantine by collecting your videos, sharing your videos or help you to make your videos.

Contact:
This project is coordinated by Jan-Willem Bult, Head of Youth & Media at Free Press Unlimited, and Aldana Duhalde from Argentina. They can be contacted through bult@freepressunlimited.org.
You can also follow us on TikTok, Instagram en Facebook.

This is a non-commercial collaborative project.
Image in header: My Quarantine Life - Lorenzo - Argentina