Promoting press freedom in Nepal for almost 25 years
Free Press Unlimited's experience in Nepal goes back to 1997, and in those years we have seen Nepal making progress, mostly with its new Constitution that came into effect in 2015. However, there still is a rising trend of press freedom violations, and the economic impact of the pandemic leaves many Nepali media on the brink of survival.
Free Press Unlimited works closely with local partners Freedom Forum, Nepal Forum of Environmental Journalists (NEFEJ), and Women Working Journalists (WWJ), supporting them with training, expertise, funding, tools and programme development in the field of media development. In the past 25 years Free Press Unlimited has initiated various programmes that are addressing gender equality, safety for journalists, professionalism of journalists, and improvement of the enabling media environment.
 
Environmental journalism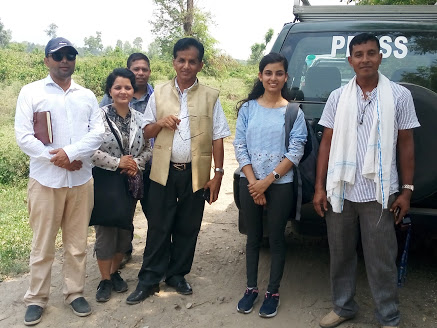 Partner NEFEJ has a track record in organising fellowship programmes. They use the Free Press Unlimited methodology, in which journalists are trained and mentored in conducting fact based in-depth stories on environmental issues and climate change that have a significant effect on Nepali citizens. As a result of the in-depth stories of the fellows that have been published, various stakeholders as well as local governments have taken action towards improving the local environment. For example, research by NEFEJ exposed flaws in an important report about the environmental impact of a planned airport. Based on this evidence, citizens managed to put the construction on hold. 
All media content on climate change prevention that is produced by NEFEJ is published on the Haka Haki (meaning 'face to face') online media platform. This is the first qualitative news media platform dedicated to inform audiences across whole South Asia about climate change, environment and sustainable development issues. During the first months the platform registered 16,509 visitors. 84% of the users are Nepal based, and the remaining visitors are international.
 
Safety: data gives insight
With partner Freedom Forum we have worked on creating a more enabling environment for media by monitoring violence against journalists, and using that data to advocate for better protection of, and legislation for, media professionals. Some concrete examples of the work with Freedom Forum are the launch of a website dedicated to mapping violations of freedom of expression and media freedom all over the country, and the legal support desk they run for journalists who are victims of legal harassment. "If the Nepali government fails to protect these journalists, at least now they can call on Freedom Forum", Freedom Forum´s Legal Officer, Ashmita Pokharel, said.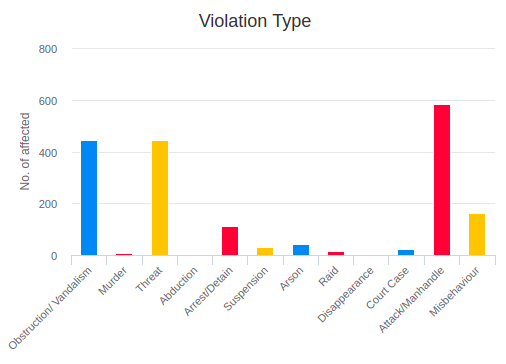 The impact of the Covid-19 pandemic
Because of the Covid-19 crisis, new challenges emerged for our partners. Freedom Forum started to support journalists and media who had taken a financial hit. In Nepal nearly 50% of the journalists lost their job (3,000 to 4,000 journalists), and income from advertisements has decreased by 90% as a result of the economic blow of the Covid-19 crisis. 
Freedom Forum supported media with the feature stories system. Taranath Dahal, Chief Executive of Freedom Forum explains: "We pay the journalist to produce these feature stories, which we then give to media organisations for free. That way we support the journalists by providing them with income, while providing the media with content and the public with quality information." Freedom Forum also produced fact-based reports on the impact of the pandemic on the Nepalese media, which were used in an appeal to the government for a relief package.
NEFEJ received protective equipment like mouth masks for 65 media workers. Because of this they could safely continue with their important work. Like producing seven stories for the My #QuarantineLife platform. On this platform, initiated by Free Press Unlimited, children were able to share their lockdown stories with other children around the world.
 
An inclusive media
In Nepali media organisations and media content itself, women are very much underrepresented. Therefore our work in Nepal has also been focused on improving gender equality and representation in and through the media. With the support of Free Press Unlimited, the Working Women Journalists (WWJ) implemented the project 'Developing leadership skills of women journalists of Nepal'. The WWJ carried out research among 520 media professionals on the status of women and the obstacles they face in Nepali media.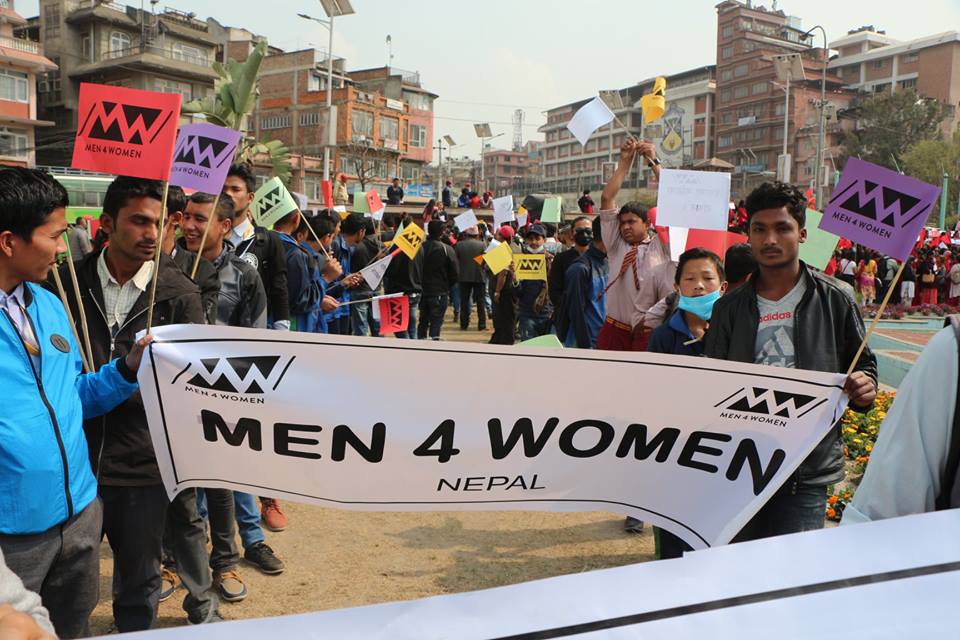 The study showed that, at a personal level, women face many obstacles which can only be partially overcome by positive discrimination in hiring and selection processes. A female reporter from Western Nepal told us: "There are many challenges due to being a woman, because I have to leave my family and stay overnight to work: society does not accept that easily … one of my colleagues discriminated and ignored me".
Based on this research, WWJ and Free Press Unlimited initiated the Female journalist leadership programme, through which 10 talented young female journalists within newsrooms were empowered through a fellowship programme. 
 
Gender Media Monitoring
Since 2016, Freedom Forum has conducted media monitoring studies to collect data on representation of women in the media in Nepal. Every three months since 2016, Freedom Forum distributed its report of the findings to the media that were examined, organized stakeholder-meetings about the findings and visited the editors in chief of the respective media outlets to discuss the results and how to make in improvements both on the level of the production of gender sensitive content as well as gender equality in the newsroom.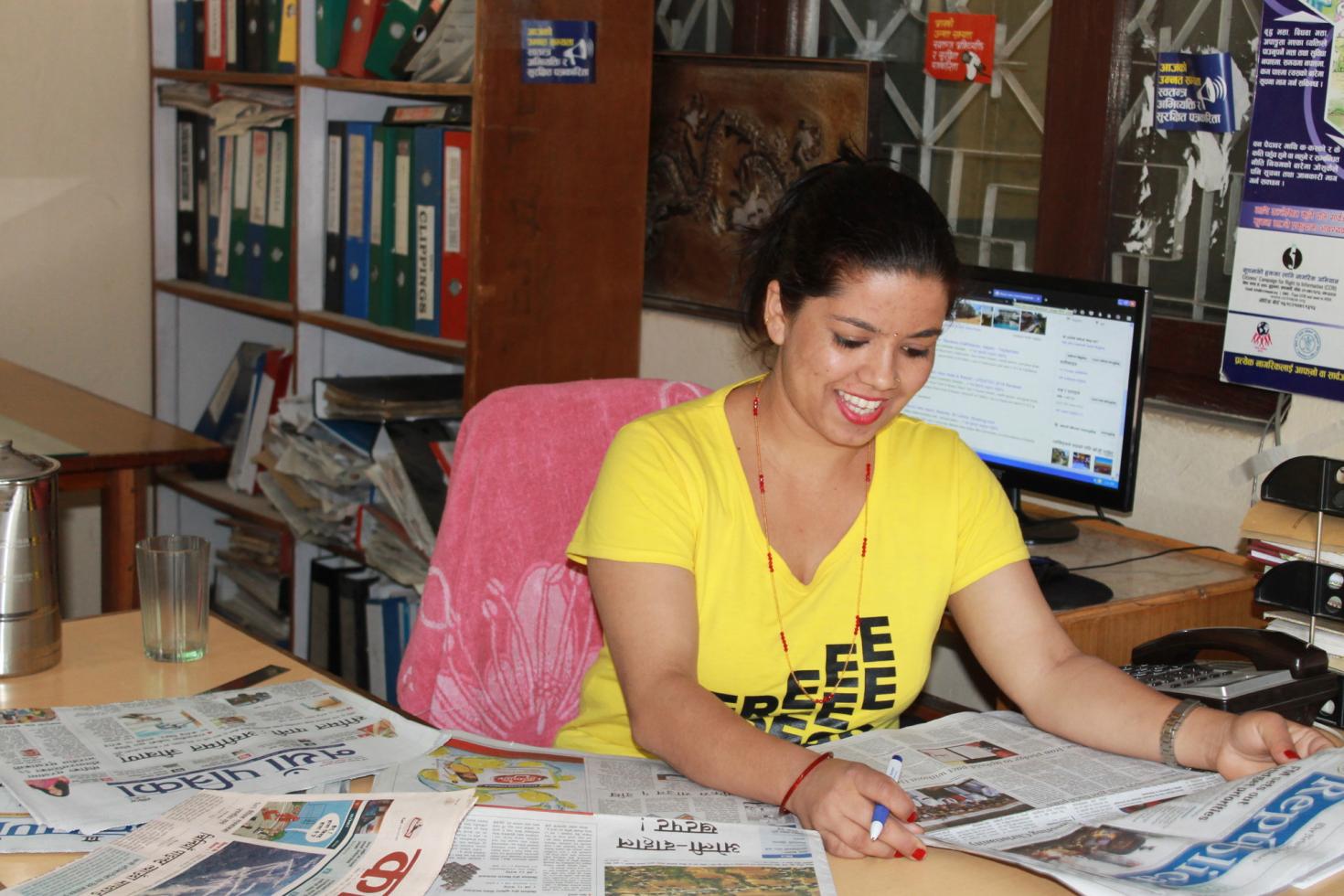 There have been some positive changes. For example, editors from different newspapers have stated that they now assign reporters to search for at least one female news source. Another example is the "pick up and drop off service" that several media outlets have initiated to safely take women to news events that are outside of office hours. This increases the diversity of topics that women can report about, namely topics related to politics and economics.
In 2019, after realizing that more direct efforts were needed to maintain pressure on individual media houses, Freedom Forum started making "feedback visits" to the newsrooms, and "detected that the number of female by-lines and sources quoted in the media increased and the perception among media houses and editors regarding women's presence in the newsroom changed."

Right now we remain in touch with our partners and are raising funds to continue the programmes.