Media4Women addressed attacks on women journalists
News
The sixth Media4Women campaign concluded yesterday with an interview and video by Irene Khan, Special UN-Rapporteur of Freedom of Expression and Opinion. Before her four other Gender Equality Champions took the stage to address the issue of online and offline safety for women journalists. On top of this many others joined Free Press Unlimited in this effort.
Many journalists all over the world experience violence, however, women journalists experience a double hit because of their work and because of their gender. They experience violence when working in the field, when posting their content online and engaging on social media platforms, or in their own newsroom. This violence is often very sexual and gendered in nature.
According to the 2020 study from UNESCO and the International Center for Journalists (ICFJ), 73 percent of women journalists face online harassment, and one third of them even consider leaving the profession because of it. This level of violence against women journalists results in self-censorship which means that essential information cannot reach the wider public.
 
Gender Equality Champions 
This year five Gender Equality Champions were introduced, and their views shared. The Champions are those who are already working towards an equal representation of women by the media. They highlight the positive change and results that are already happening.
You can (re) read the Champion's stories here:
Support for the campaign
Every year, Free Press Unlimited is joined in the campaign by partners and like minded people and organisations from all over the world. ARTICLE19 and Gender & Media Connect Zimbabwe joined us to spread the message on #SafetyforWomenJournalists. The Africa Women Journalist Project shared posts with a focus on creating safe spaces for women journalists, tips on online safety, and called on newsroom managers to have protocols in place to support women journalists that report online violence.
WACC, the organisation behind the Global Media Monitoring Project whose global coordinator was one of last year's Champions, called for safety for women journalists in French, sharing multiple shoutouts. Freedom Forum from Nepal, shared a picture of their staff, all holding different shoutouts to stand up for online and offline safety for women in the media, in English and Nepali.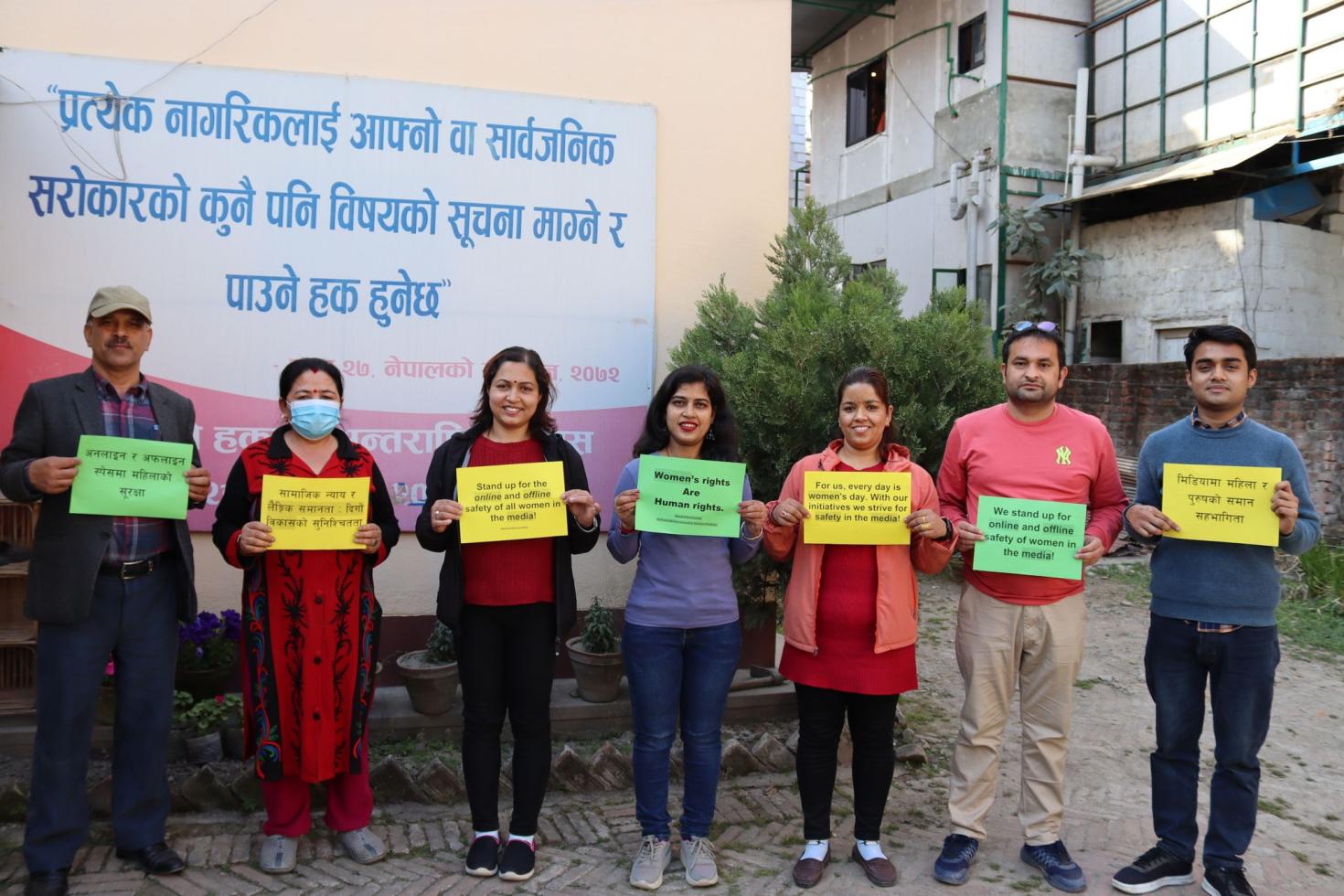 Champions in Bosnia Herzegovina
BH Novinari in Bosnia Herzegovina chose their own three Gender Equality Champions. The news portal Direkt.ba was selected, whose owners, and editorial staff, are women, and who have a sensitive editorial policy that promotes women's values and gender equality. The other two were, Nikola Vučić, a young TV journalist who strongly fights against male stereotypes towards women, and Professor Dr. Zilka Spahić - Šiljak, an expert on gender policies and gender equality, feminist and educator of young women in academia, including journalists and postgraduate students in human rights.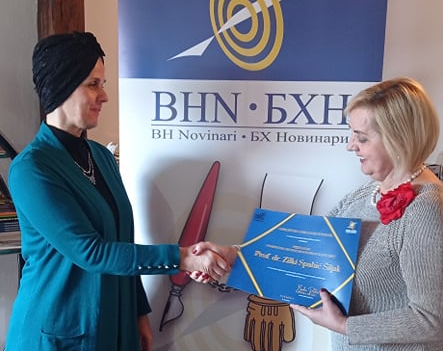 Studio Free Press Matters on women journalists reporting from crises
On International Women's Day, in the middle of the campaign, a Studio Free Press Matters episode was dedicated to women journalists reporting from crisis situations. Cinthia Membreño, audience manager at media outlet Confidencial, spoke about the political crisis in Nicaragua, and Alina Radu, editor in chief at ZDG in Moldova, spoke about the impact the war in Ukraine has on the well-being of journalists and their reporting.
Inspiring event around Writing with Fire documentary
On 9 March, a pre-screening of the Oscar nominated documentary Writing With Fire was part of this year's campaign. Before the screening, Free Press Unlimited's Larissa Buschmann had a panel discussion on the safety of women journalists in India with two prominent Dalit reporters Meena Kotwal and Yashica Dutt, and a former South Asia correspondent for NRC Handelsblad - Eva Oude Elferink. 
During the conversation recommendations were shared to explore the subject further. Follow these Dalit filmmakers for a nuanced understanding of caste system in India:
Pa Ranjith

Neeraj Ghaywan

Nagraj Manjule 

Mari Selvaraj
And the following films are recommended to watch:
Kabali

Sairat

Masaan 

Jai Bhim

The Discreet Charm of the Savarnas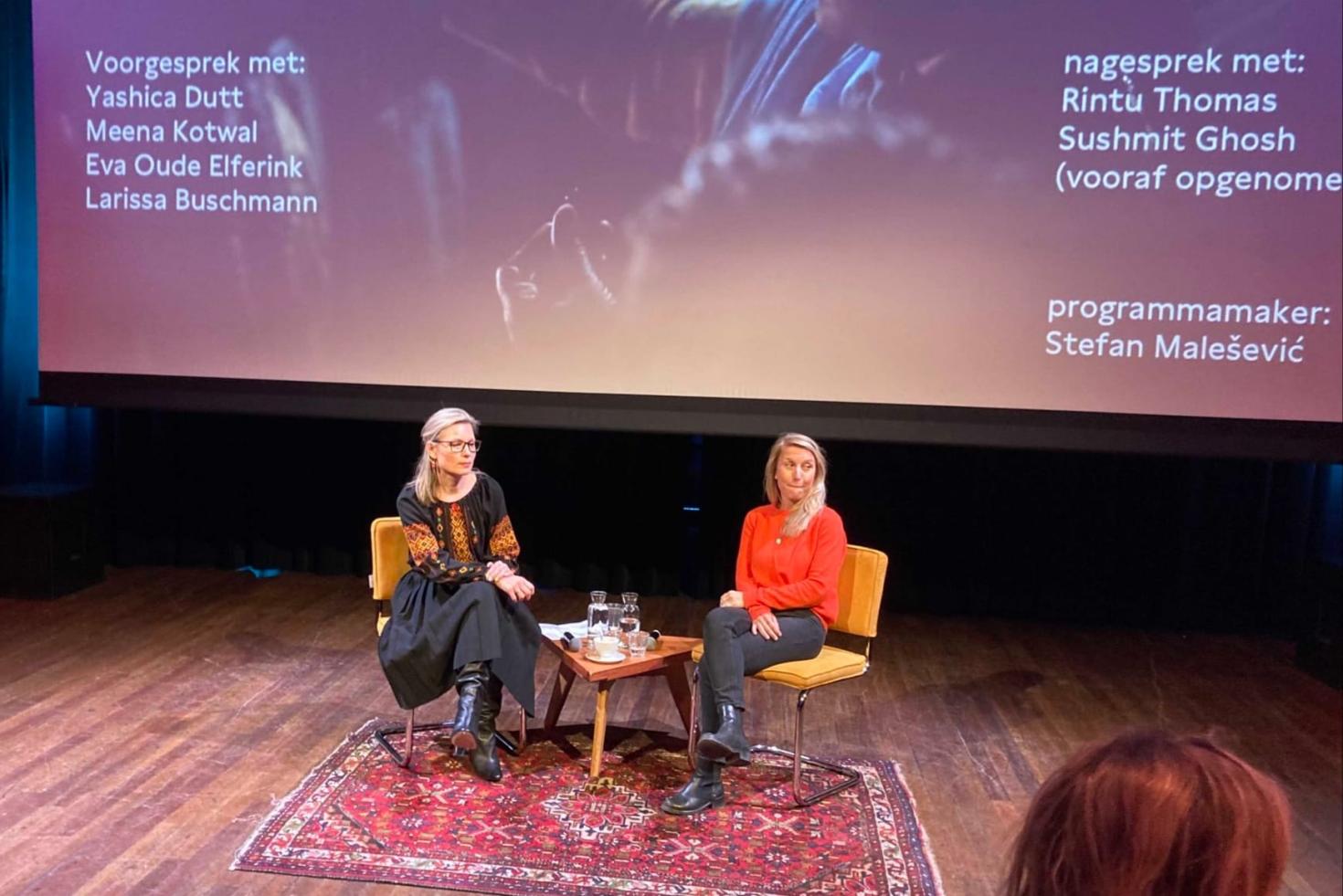 Free Press Unlimited shall continue working on issues of online and offline safety of women in the media. Would you like to know more? Follow our work on providing emergency support to journalists in distress and our policy and advocacy efforts to make media a safe space for all genders. Subscribe to our newsletter or follow us on Twitter.